Group Outings
Bench Warmers
Blue Line Club
Intermission Scrimmage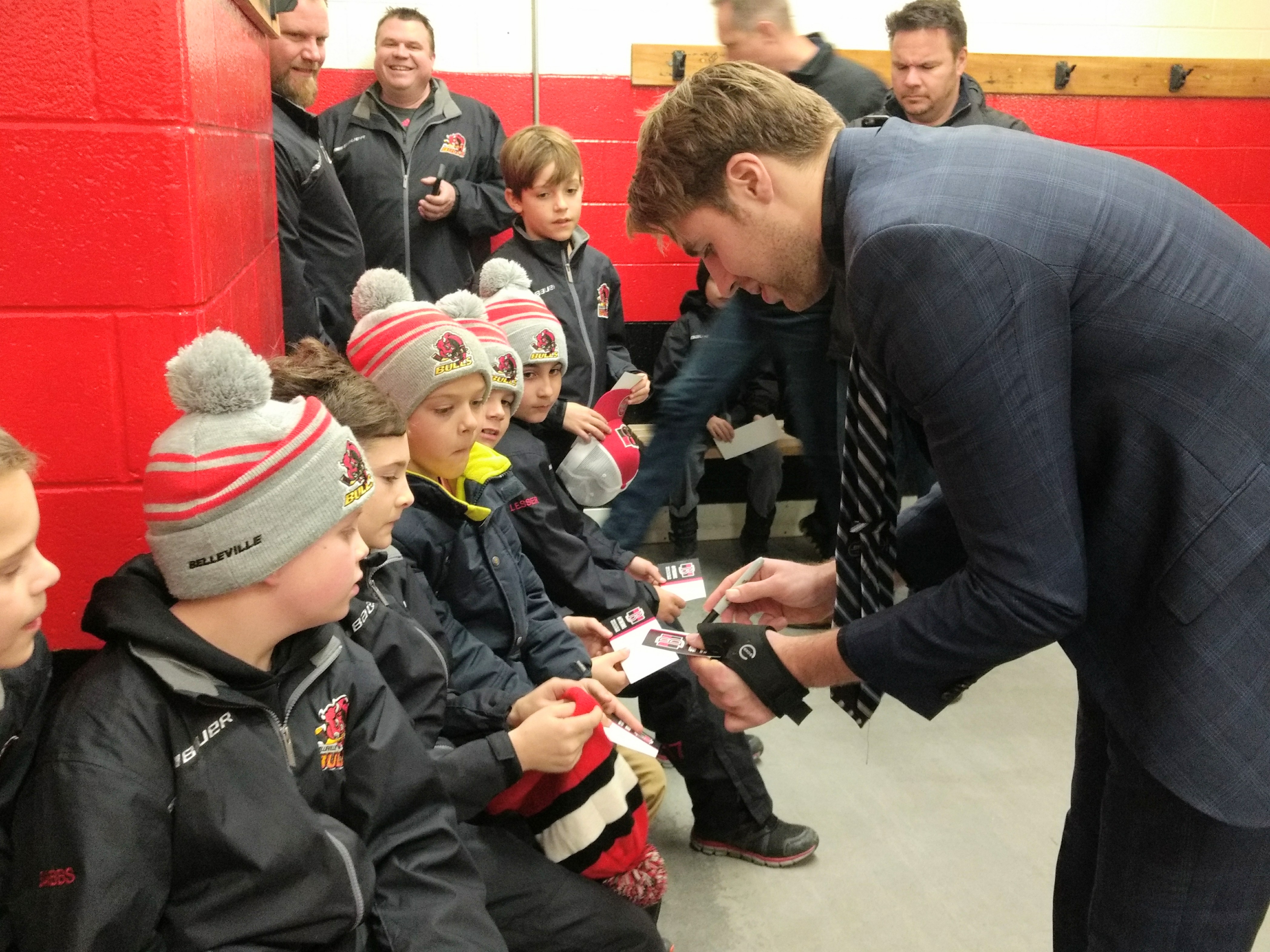 Player Meet and Greet
Team Shootout
Group Photo
Looking for a fun night out for your youth sports team, church, school, organization or business? The Belleville Senators offer a number of unique and exciting group outings, with only a 10 ticket minimum! You and your group can take advantage of these experiences with prices as low as $19.50 per group ticket**.
Standard Group Outings:
In game welcome
Group tickets together
Tiered cost savings
No Individual Service fees
Drop off and pick up privileges for groups travelling together (i.e. via Bus)

Make your group outing even more memorable.  Secure a Group Experience that you can participate in below!
Group Outings: Pre-Game
National Anthem Program – Perform "O' Canada" and, depending on our opponent, the American national anthem "The Star-Spangled Banner" on the biggest concert stage in town in front of thousands of Senators fans at the Yardmen Arena!
(50 ticket minimum)
Blue Line Club* – Stand tall and proud alongside your hockey heroes during the national anthem(s) on the blue line. Availability for two minor hockey teams each game to stand with the Home and Away teams.
(30 ticket minimum)
Bench Warmers – Watch the Belleville Senators and their opponent during their pre-game warm-ups from the comfort of the Home team bench. Maximum 5 people on the bench at one time.
(30 ticket minimum)
Dressing Room Tour – Take a guided tour of the Belleville Senators' brand new, state-of-the-art, 9,000 square foot dressing room. Two tours are available per game day at 3:00 pm (games starting at 7:00 pm).
(30 ticket minimum)

Group Outings: Intermission
Scrimmage* – Be the centre of attention during the intermission as your team plays against each other for 5 minutes at centre ice of a professional hockey rink.
(50 ticket minimum)
Skills Competition* – Impress the crowd with your team's hockey/ringette abilities during a skills competition showcase that can include Fastest Skater, a Relay Race or other movement drills.
(50 ticket minimum)
Team Shootout* – Bring your full team out and show off your best dangles and shots in front of 4,500 spectators at the yardmen Arena.
(50 ticket minimum)
On-Ice Performance Showcase – Secure a night for your Skating Club, Cheer Squad or Dance Team to perform during an intermission.
(50 ticket minimum)
Fan Tunnel – High-five all of the Senators players as they come on the ice! The fan tunnel allows your group to get up close and personal with the players. Maximum 8 people at a time.
(30 ticket minimum)
Player Meet and Greet – Receive an exclusive visit from a player not in the line-up during an intermission where you can get autographs, take pictures and have a Q&A session.
(30 ticket minimum)

Group Outings: Post-Game
Group Photo on The Ice – After the game, we will take a group photo on the ice and you will receive a digital copy for your whole team.
(30 ticket minimum)
*Atom age group and under
** Price does not include taxes or surcharges
To inquire about your group's outing and any of the opportunities listed above, scroll down to fill out a Group Ticket request form or call (613) 967-8067.

For more information on group outings: